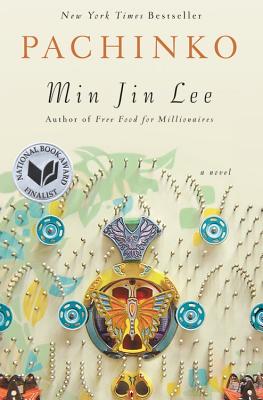 Pachinko by Min Jin Lee
Grand Central Publishing, 2017
Genre: Fiction
Rating: 4/5
An epic saga that includes four generations of a Korean family — first living in Japanese-occupied Korea at the turn of the 20th century, and then later as immigrants in post-WWII Japan.  Powerful and moving, the story revolves around Sunja, a pregnant and unwed Korean girl who marries a kindly pastor and moves to Japan to avoid the shame of her predicament.  We follow Sunja and her family through the years, sharing their incredible joys and their immense sorrows.  It is an often heartbreaking story that unfolds a rich history, unveiling issues of  discrimination and the loss of identify associated with their emigration.
"For people like us, home doesn't exist."
The title takes its name from a arcade game, originating in Japan, Pachinko — a cross between a slot machine and pinball machine.  Tiny balls are released into the playing field and ricochet back and forth as they hit pins.  Pachinko serves as a metaphor for life in this beautifully written book:
"……. life was like this game [Pachinko] where the player could adjust the dials yet also expect the uncertainty of factors he couldn't control."
Battling politics, extreme poverty, racial and sexual discrimination, they fight to survive desperate conditions.  And yet just like the tiny balls in the Pachinko game, ultimately that are at the mercy of fate.  It is a story of amazing resilience, survival and of hope:
"….. there could only be a few winners and a lot of losers [Pachinko].  And yet we played on, because we had hope that we might be the lucky ones."
At close to 500 pages, it is an undertaking for sure.  I found the first 3 generations of stories to be engaging and heart-rendering.  By the time we got to the fourth generation, I had more trouble keeping track and never really became attached to the characters.  However, the first 3/4 of the book make up for the fizzle toward the end.  Grand in scope, and with many characters that I will not soon forget, Min Jin Lee's, Pachinko, is one you'll want to add to your To Be Read list.
Click below to find a local bookstore to purchase this fabulous book: